Well here we are, late January 2023, and the Ukraine war is still raging. At this point, the U.S. has given Ukraine $100B in military aid. Biden and friends have said, 'this will continue as long as it takes.'
Russia's not stupid, if they didn't already know, they certainly know now. The goal is to destroy Russia from being a dominant power. So the aid will continue from the United States which means something has got to give, or it's going to boil over.
Here's the latest from Russia's Medvedev, (also see previous notes).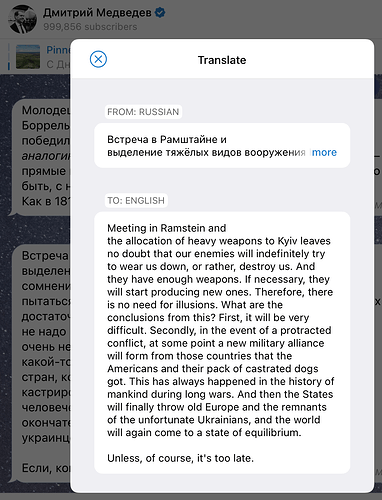 In Medvedev's opinion, new military alliances will form, nations will pick sides in the conflict. He's right, this has always happened in world history. His final statment is bothersome, being, "unless, of course, it's too late."
We all know what that means.
One thing is certain, the world is coming out of a pandemic with unprecedented lockdowns and experimental vaccination. Questions are openly being asked about them. Trillions were printed during that time, "to save us." Now those printed trillions are destroying the global economy through inflation.
Anyone could have seen this coming, just not the war portion. It's all coming to a head at once. Father save and protect those who love you. Something ugly this way comes.
I'll use this thread to add updates and notes.