Even CNN admits, the war in Ukraine is "real-world battle testing" of Western weapons against another developed nation.
Back in July, Ukraine Defense Minister Oleksii Reznikov said,
"We are interested in testing modern systems in the fight against the enemy and we are inviting arms manufacturers to test the new products here."
Ukraine aid and bad accounting:
The United States put together another military aid package for Ukraine. This time, $2.5 billion, yet our politicians want to talk about budgets? Meanwhile, Russia is expanding its military to 1.5M.
Oh, but it gets better. The Pentagon cannot account for $220 billion dollars of "equipment" provided to military contractors. I think we know where it went. Add this to the billions lost in Afghanistan.
One more note…
Russia said what?
Western media is saying Russia is threatening nuclear weapons again. Reuters reports,
An ally of President Vladimir Putin warned NATO on Thursday that a defeat of Russia in Ukraine could trigger a nuclear war, while the head of the Russian Orthodox Church said the world would end if the West tried to destroy Russia.
That's not quite true.
This information was taken out of context from a Telegram message by Russia's Deputy Chairman of the Security Council Dmitry Medvedev. This is what he actually said,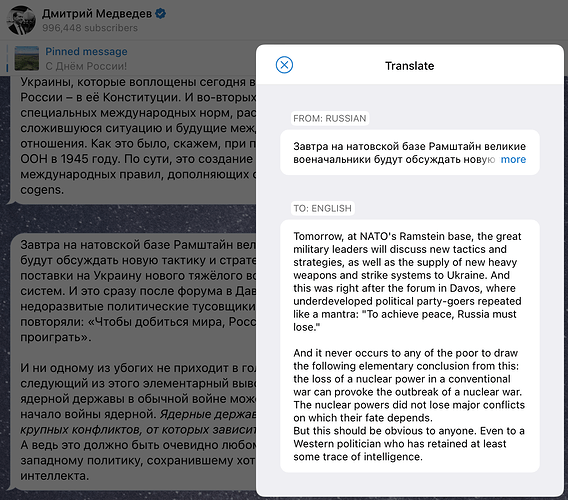 In recent communications, Medvedev made the point, the United States is the only nation to ever use nuclear weapons.
Once again, don't expect the media to report reality when they can spin it to suit their agenda.