Dollar dominance continues its slide.
ASEAN Finance Ministers and Central Bank Governors are talking about:
Reducing dependence on the US Dollar, Euro, Yen, and British Pound from financial transactions and move to settlements in local currencies.
Indonesia calls for phasing out Visa and Mastercard
Just yesterday we caught wind that China and Brazil are ditching the dollar for nation to nation trading. This is all a big change from the past my friends.
For decades, the United States has been able to rack up the deficit as someone else would buy all out debt. That's been changing for sometime now. Our nation is fiscally reckless and the world is changing course.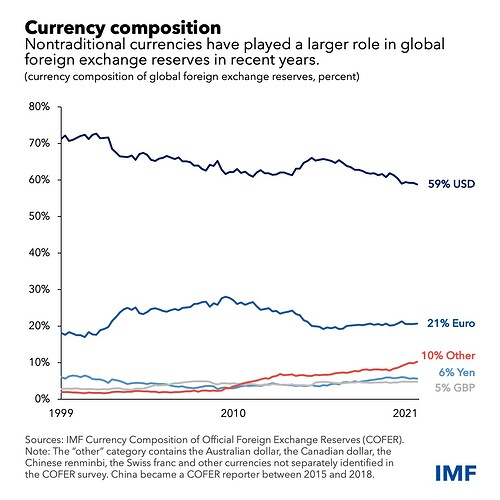 Source:
IMF
I've been talking about fiscal responsibility for years, but our government never goes it. They spend, spend, spend money they don't have and then brag about our great economy. With the advent of our nation raising our national debt 39% within just four years and the latest war we're involved in, the nations want out.
And who can blame um?
P.S. Who owns all our debt?
The federal reserve
Americans and institutions
Foreign nations (1/3 of all debt)